December 22, 2008 - December 22, 2009 - 1 Year As An Angel...
Steeler (named when he was just a tiny kitten after his daddy Anthony's lifelong favorite football team) was an amazing, very affectionate cat that spent 21 wonderful years as our beloved family pet. I'll always remember him for his unbelievably insatiable appetite, constant vocal chatter, longevity, good health over his life (all he ever had was a few bouts with ear mites) and loving to rub his face against the brims of my baseball caps whenever I held him. He craved alot of food and alot of love/attention...if you gave him those, he was a very content cat. When he wasn't content, he let you know it - because he'd meow incessantly until someone caved in. But it was never mean-spirited....just a yearning for what he wanted and needed (and it was always given to him...who could resist that face?)
He never seemed to ever get sick during his life...at the end, his body just finally began to give out from old age and he developed internal bleeding and pain from the beginnings of multi-organ failure. I was blessed and fortunate to have him for such a long time...can you imagine how many memories are created from over two decades with a pet that had such a distinctive personality? He saw me leave my teens, my twenties...and had he lived till May of 2009, he would've also been with me as I leave my thirties. And yet, having him for all those years also can be sort of bittersweet - I became so used to him being around that it's hard to imagine my family and life without him. His absence has left a gaping hole in our family, but most of all in my own heart. I know time will make it somewhat easier, but for now I'm just kind of a mess and doing my best to keep that suppressed. My sincere condolences go out to others on Critters.com, particularly those who lost their pet much earlier in its life than Steeler did.
Here are a couple of short clips of Steeler taken at home on December 22, 2008 about 30 minutes before he was put to sleep:
As you can see, he was STILL able to jump up on counters at 21 years old!
http://s251.photobucket.com/albums/gg282/aok10461/?action=view&current=SteelerFinalVideo212-22-08.flv
And here was my fiancee and I giving him some final Pounce cat treats, which he gobbled up happily because food was always the main love of his life...although I'd like to think I was a close second. (The booming voice in the background on this clip was my stepdad's, who just got back with his three dogs for a final farewell.)
http://s251.photobucket.com/albums/gg282/aok10461/?action=view&current=SteelerFinalVideo1-12-22-08-1.flv
After his treats, I wrapped Steeler in one of my warm flannel shirts and I cradled him in my arms as my fiancee and I took him across the street to our vet. After some private time to say goodbye, I stroked his head as he was quietly and peacefully euthanized at 5:17pm. The vet staff was empathetic and professional and I am grateful for their gentle and compassionate care on that very sad day when Steeler's journey on Earth had to be brought to a close. The only thing harder than a beloved pet passing on his/her own is when you have to make that conflicted decision to end his/her suffering. I know it's the "right thing", but there's still a small bit of irrational guilt that comes with that.
It was extremely important to me to be there with him, that I was the last image he saw and my voice was the last thing he heard, because I knew it brought him comfort; we were always close. Unfortunately it leaves me with the sad memory of having to watch him stop breathing (through my own unstoppable tears) after being put to sleep, but when you love an animal that has become terminally ill and need to make that "hard choice", you have to put him/her first and I wanted his final moments to be ones of peace and reassurance.
RIP, my little friend. Thank you for so many years of companionship in our travels and God bless you. I'll miss you very much and hope you're now with Fang, Sheina, Baby, Dickie and all our other family pets who have passed over the years. I'll always believe that all animals go to Heaven, simply because they have an inherent innocence that we, as humans, do not. Their love is unconditional and that is such a wonderful, refreshing gift in a world that can sometimes be so seemingly and unneccessarily so harsh and....well, conditional.
One year already...time really does fly so fast. RIP - and thanks for that Superbowl championship six weeks or so after you passed away last year. ;-)
Last updated at 1:02pm on 12-22-09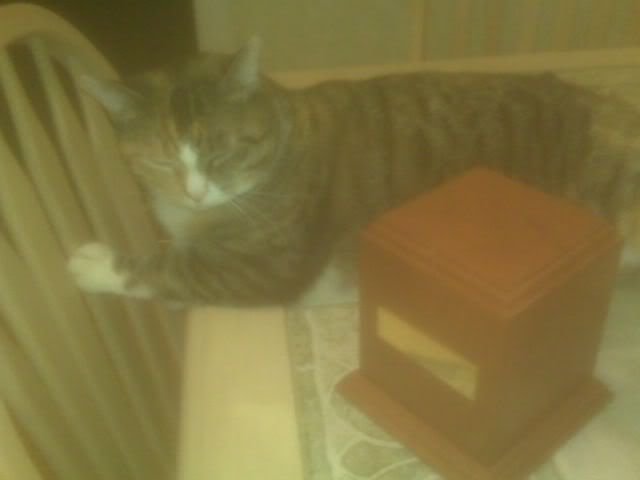 This is our 3 year old cat Tabitha welcoming Steeler home on December 29, 2008.
She didn't leave his urn until I put it up on its designated shelf...she's one of the most affectionate, intelligent and expressive cats ever. We adopted her as a tiny little stray off the street when she was only a few months old and she has rewarded our love with just as much of her own.